Digital Delivery is a very convenient method for receiving your tickets. With Digital Delivery your tickets are emailed straight to your email address. This article will demonstrate how to download your ticket(s) with optional printing. Please note, you can present your ticket on a mobile device.
We hope you enjoy the show!
Please note: Some shows and festivals have delayed delivery, and your ticket(s) will email closer to the event date.
Step 1: You will receive an email for each ticket on your order. The email subject will differ by name of ticket. In this example, "1 of 2," and "2 of 2," are the differences between the subject lines.

Step 2: Inside each email there is an image of your Ticket Confirmation. Please do not print this image. This image is not your ticket. Scroll down to the bottom of the email to find your ticket attachment.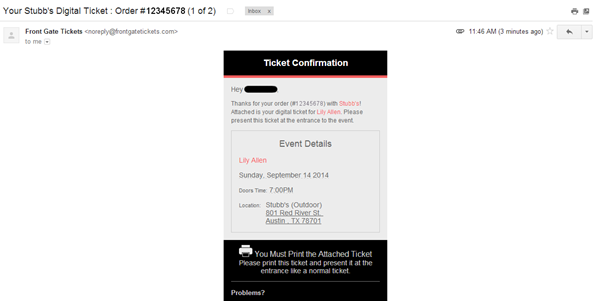 Step 3: At the bottom of the email, there is an image of the attachment titled, "PrintAtHome_...."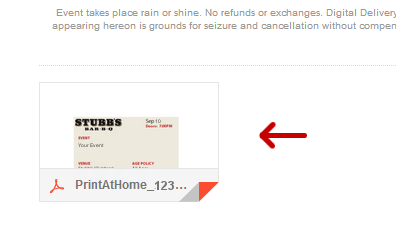 Please hover over the image and download the attachment.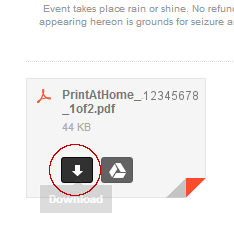 Step 4: Your web browser may present the download at the bottom of the page like in the image below.

If your browser does not immediately show you your download, please visit your download file and find your recently downloaded ticket.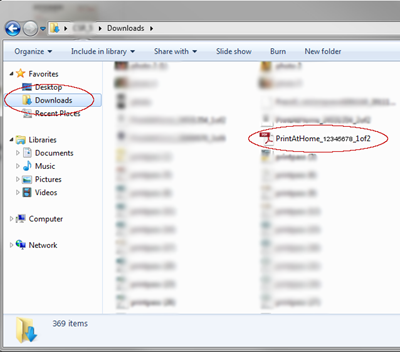 Step 5: Open the downloaded file in Adobe Reader, and print your ticket!
Please follow the above steps for each email you receive. You will notice each ticket will have your order number, unique barcode, and its ticket number at the bottom of the page. Please make sure all your tickets are accounted for and present them at the entrance of the event. Each ticket can only be scanned once.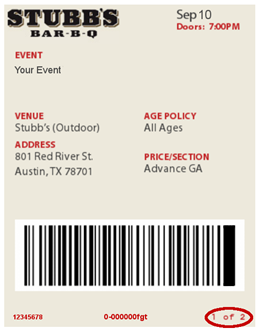 If you do not receive an email for each of your tickets, please check your spam or junk folder. If not found, please Contact Us so we may resend your tickets.